Yes it's actually  possible even from the other side of the world, you can watch UK TV online in Australia.    What's more it's not that difficult to do, but for lovers of British Television it's worth the effort and the small expense.  Now at first glance you'd think this would be simple, after all every single UK TV station has an extensive online presence.   There's the wonderful BBC who allow you to live stream, watch from archives and even download to watch online all the BBC channels.  For the commercial stations you've got ITV Hub, Channel 4 have 'All 4 and My 5 for Channel 5.
The quality is amazing as long as you have a decent internet connection to support HD and you can even stream these shows direct to your TV using the right cables or technology.   However there is one small issue to circumvent before you can start watching UK TV online in Australia or anywhere outside the UK.   That is region blocks, the technology that all major media sites use to restrict access to specific locations – all the UK stations use this to stop anyone from outside the UK watching online.  The method they use is quite simple, when you visit the site they check your IP address and look up to see what country it's registered to – anything other than the UK and you'll get this: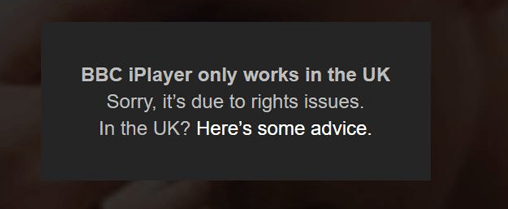 You'll get a similar message for the other UK TV stations too from an Australian internet connection.  It's not just British TV online which do this though, Australian media like ABC block access from outside Australia.  In fact most developed countries in the world restrict access to their domestic market because of copyright restrictions.   Try and watch any online US stations or those from European countries and you'll get exactly the same issue.  When it comes to online media and entertainment sites, the internet is actually getting much smaller by the day.
So what can we do about it?
Here's How to Watch UK TV Online Australia
What you need to do, is take some control of your IP address which how all these sites determine your location. Although you can't actually change this address (unless you own an ISP), you can hide your true location by using something called a VPN.   As long as the VPN server is located in the country you need then you'll be able to access whatever you like and watch whatever you want.  Obviously for the BBC and other UK TV stations you need the server to be registered in the UK.  Here's an example of one being used in this video:
As you can see, if you route your connection through a UK based server then everything will work perfectly. The program illustrated in the video also includes access to servers all around the world so you can switch countries whenever you like.
There are many of these services around for small subscriptions, but be careful which you choose.  The BBC blocks many of them routinely, most of the cheaper services don't work anymore as their overloaded connections are easy to detect.  However there are still a few like IDC which still work, but it's always best to sign up for short trials first to see if it works well for you.