If you've travelled a bit and watched a bit of TV in a variety of countries then you'll almost certainly come to the conclusion that British TV is amongst the best in the world.   I can't speak of non-English TV stations but out of the ones I can understand then the like of the BBC, ITV and Channel 4 produce wonderful quality programmes in lots of different areas.   My own preference is for News and documentaries, although I did inexplicably get drawn into ITV's – Downton Abbey.
So it's great that most of these channels are available online in some form or another.  The BBC Iplayer is probably  the best purely because it contains so much content and it's completely free, the other commercial stations though are not far behind although you may have to pay a small fee for some shows.  The difficulty is for Ex-Pats like myself is that none of the channels are available when you're physically located outside the United Kingdom.
For licensing reasons the vast majority of the shows simply won't work.  Instead if you try and watch Eastenders or Panorama then you'll get a message like this.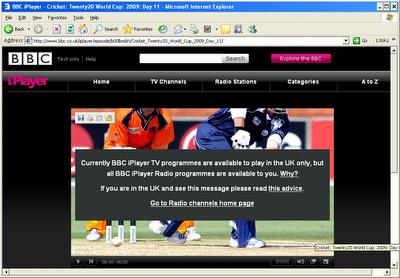 A very polite message informing you that you can't watch any of the TV programmes because of your location.  The functionality is restricted to the radio programmes (apart from some local stations and most sports coverage) and a couple of other shows on the TV application.   The BBC has complete control over this  – for instance, the finale for the last Dr Who series aired on BBC One was accessible to anyone in the world alas this doesn't happen very often.
The technology behind these blocks are quite simple, they are actually based on your IP address.  When you connect to the web site, your address is cross referenced with a database to find your location – if it's in the United Kingdom then you are allowed to continue otherwise you'll be blocked.  Fortunately there is a way around this – here's an explanation in this video entitled – How to Watch UK TV Abroad.
There are other methods of course, you can search around for free proxies but they will rarely be able to stream video.  There are some 'free programs' that supposedly allow access however they cover their costs by installing adware and spyware on your computer.  Again they are also liable to be very slow simply because routing video through proxies costs money.
One of the newer method which is starting to appear is something called Smart DNS which only routes specific parts of your connection just enough to fool the Geo-blocks – hence because it uses less bandwidth it normally costs even less.  This method is particularly useful if you want to view TV over a variety of devices such as phones, Smart TVs and tablets like the iPad.