For anyone who likes TV, then the BBC website is something you should definitely see – it is undoubtedly one of the best sites on the internet. Although it reads like a global newspaper, the primary function is of course to provide another way to broadcast it's many channels. However for anyone who visits the site from outside the UK, you'll see a very different web site entitled the 'International Version'. Here you can see a screenshot of this version:

It's still an excellent website but it's missing huge sections that are available in the version that you see from the UK.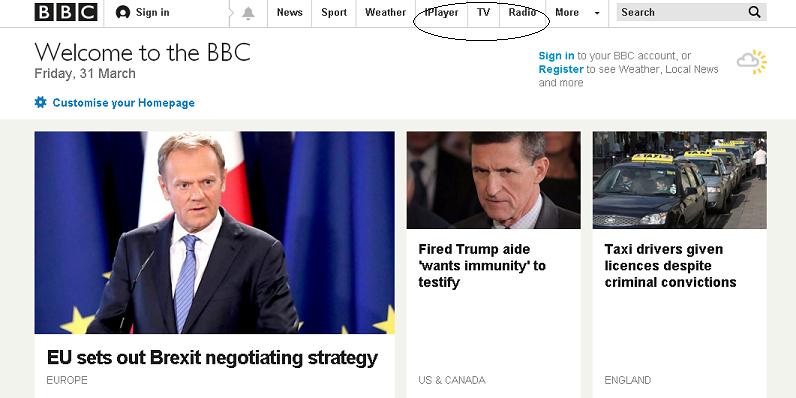 You can see that the top menu is different in the domestic version, with the addition of tabs for BBC iPlayer, TV and Radio.  Unfortunately these are what makes the BBC website so wonderful and here's why –
iPlayer – contains an archive of all BBC programmes broadcast over the last month.
TV – live stream of all the BBC Channels – about 10 of them, all 24 hour including the amazing BBC News channel.
Radio – All the BBC Radio coverage including dozens of local radio stations.
It's an incredible site and although I live in the UK part of the year and have several media packages like Netflix and Amazon Prime – at least 90% of my viewing takes place using the BBC.  It's all of an incredible high quality, and of course no advertising breaks even online.
So How Can You Watch BBC Iplayer in Canada
So if it's so great how is it possible to get the BBC from outside the UK?  How can we get the proper version in somewhere like Spain on holiday instead of the BBC international pages? Well fortunately it's relatively straightforward to do this all you need to do is hide your location and pretend you're accessing the page from the UK. This is possible by simply bouncing your connection off an intermediary server (usually called a proxy or VPN) based in the UK, it sounds more complicated than it really is – so here's video demonstrating the concept.
As you can see in the video, the connection is controlled by a little software program which you use to select which country you want to impersonate. There are many servers included in the subscription, which you can choose depending on what you need to watch. Canadians in my experience tend to use the USA, UK and French servers to watch media sites in those countries.   You can also use the subscription on other devices like Smartphones and tablets such
as the iPad
, you just need to connect manually but it's quite simple process explained in the members area of the website. It's all you need to not only watch the BBC in Canada but also access websites in loads of other countries which would normally be blocked.
There are many companies selling user configurable VPNs, proxies and other methods for getting access to UK TV online. But if you just want a simple, reliable and straight forward way to watch BBC Iplayer, ITV and Channel4 from anywhere in the world then Identity Cloaker is the software you need.   I've tried them all and have been using Identity Cloaker for over 9 years now.
.
Try the 10 day trial for the cost of a sandwich, to see how easily it works.
by