When you move abroad from the UK for any length of time, there's usually one thing that nearly all British people miss. It's not some favorite food or drink, and of course not the weather – it's watching UK Television. We all complain about the license fee and the number of repeats, but when you actually compare it with other English language broadcasting – you'll normally appreciate just how good the quality of our television actually is.
Of course, all the major UK TV stations now broadcast most of their stuff online, many people expect to be able to access via BBC iPlayer abroad or ITV player as normally from their computers. Unfortunately this is not the case, the sad reality is that although the majority of UK shows are broadcast online – they're only available for UK based surfers. It's sort of confusing, the one real time you'd need BBC iPlayer for example is when you're travelling and away from the UK, but it's the one time you'll be unable to access it.
The reasons are probably due to license issues for the BBC at least, probably something to do with copyright for the other British commercial channels – ITV Player, 4 on Demand and Channel 5. The blocks all work in the same way, when you try and visit the web site, your location is checked by referencing your IP address. These are all allocated and assigned to countries, so it's simple to check your location. If your address is based outside the UK, you will get this message or something similar.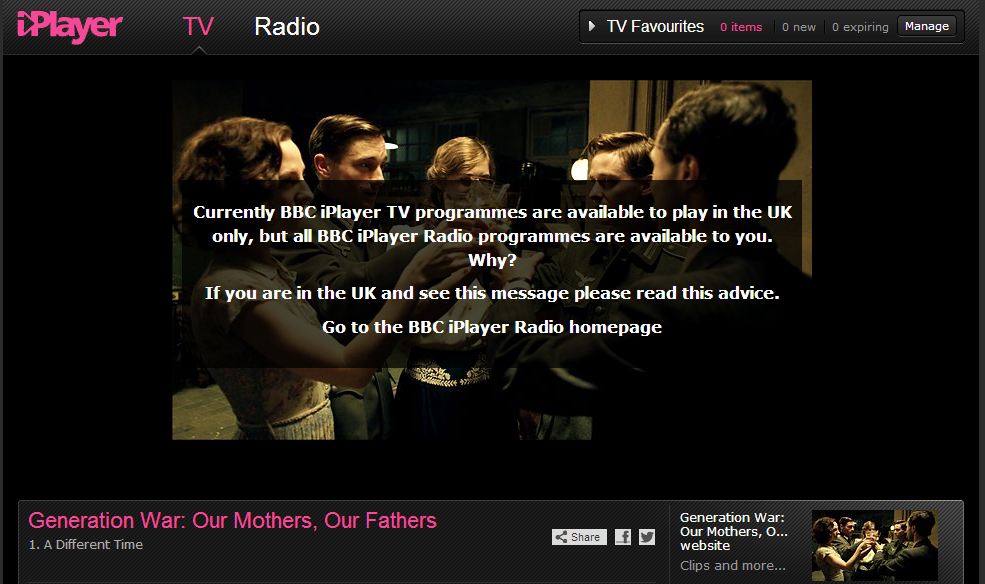 Basically because your IP address is registered outside the UK, you'll not be able to access anything on the iPlayer site for example except some of the Radio Channels.
Fortunately there is a way to get round this, it involves hiding your real IP address when you connect.   It involves connecting via an intermediary either a proxy or VPN server.  This is basically a computer which sits between you and the web site you visit, hiding your real location.  If that server is based in the UK, then you'll effectively have a UK IP address as only the servers address will be visible. You can then access whatever you like – watch BBC news live online just like you were in the UK.
Here's an example of this in action –
As you can see, the best proxy/vpn services now provide servers in lots of different countries which means you can switch location whenever you need to.  This means that if you want to watch a US only media site, you simply pick a US server to connect through then switch country as you require.   The BBC iPlayer only checks at the beginning of each video stream so you can even disconnect after it starts playing, currently it doesn't require a residential VPN either.
People always ask if there's a free way of doing this, and the answer used to be yes.  If you search carefully you'll find free proxy servers around on various web sites (like proxy.org) however there is a huge problem with these.   They are actually very simple to detect and although previously none of the media sites blocked them, that has all changed now. Watching UK TV in USA won't work with any proxy in 2017 and in fact many of the VPNs have been restricted as well.
If you want to try  an Identity Cloaker subscription as demonstrated above – it's best to try this  .  to make sure you can get it working.