Accessing different versions of Netflix has become extremely difficult over the last few months, and for some time it was almost impossible.  The normal methods of hiding your real location slowly disappeared as the media giant started blocking access to them.  The first to go was the simple proxy server, and with it almost all the free options of bypassing the various region blocks used by the big media sites.  The writing had been on the wall for proxies for some time though, nowadays they are next to useless for accessing blocked content as every web server can detect them.
Here's what happens if you try and use one with Netflix: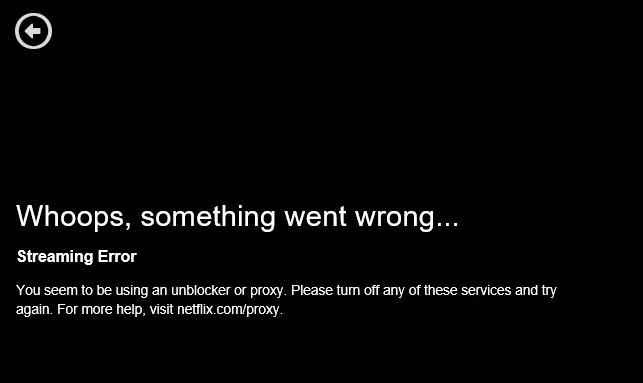 It simply won't work and every single proxy is the same irrespective of where it's located and how it's configured.  Proxies are simply too easy to detect and most people looked at the other two options Smart DNS and VPN services.  These are both slightly more sophisticated methods of hiding your true location, although both very similar.  A VPN performs the same function as a proxy however it is much more difficult to detect and can normally be used with every single media site without issues.  Smart DNS servers function in a similar way however only filter some of the connection through a third party server when accessing specific sites.  One of the advantages of Smart DNS is that they don't relay all you traffic through the VPN server and so potentially can be quicker plus they are easier to configure on different devices like Smart TVs and media streamers.
Both these options work for many online media sites, although VPNs are the most reliable as they're harder to detect with built in encryption.  Unfortunately Netflix decided to try and block these methods as well, determining a method which restricted these two.  Suddenly all the VPNs and Smart DNS codes stopped working for accessing US Netflix from abroad.  People found cheap ones like trickbyte not working and all the dns trial services too.  The problem was that although there were loads of US Netflix DNS codes still available, none of them worked and worse some of them were being used to relay people to hacked sites. Literally millions of people found that their encrypted VPN, their UK DNS code or that American Netflix DNS free trial they were using suddenly stopped working.
What happened is that Netflix did something unprecedented and potentially damaging, they blocked access to their servers from commercial IP addresses.  You see every IP address is classified into two distinct types – commercial and residential.  Commercial are those assigned to companies, colleges, datacentres and anything like that, whereas residential addresses where only assigned by ISP's to home users.  Netflix blocked anyone from a non-residential address which unfortunately covered every single VPN and DNS service because they were almost always setup in commercial data center servers.
Here's one that does still work though –
Unfortunately although residential IP addresses are fairly simple to get if you're a home user connecting through an ISP but for commercial organisations it's much more difficult.  There are some limited  sources of these addresses available through specialist providers.  However they are usually pretty expensive due to the scarcity but a few organisations have built these addresses into their VPN infrastructure in order to support US or UK Netflix.  Including our favorite VPN service – IDC
The smart DNS market w
Other options are relatively limited for accessing different versions of Netflix, but there is one Smart DNS service which has been upgraded.  If you want to test it, you can see an American Netflix DNS free trial in the link below. It's one of the few ways to unblock US netflix at the moment and one of the only US DNS servers that works currently.
At the moment there's a free trial of the only viable Smart DNS solution available here –
FREE Trial of Unblock Here