Keeping tabs on which proxies and VPNs work with which media sites can turn into a time consuming task! There is an ongoing battle being fought between the VPN service providers on one side and the actual media companies on the other side. So for the sake of some clarity, here's a little summary of the current state of play about watching BBC iPlayer abroad in 2017.
So Long Proxies and Thanks for all the TV
For years, proxies have been a great way for anyone to bypass the blocks on BBC iPlayer outside the UK and even to watch ITV hub abroad.   True, there have always been easy ways for the media companies to block proxies automatically but the BBC certainly never really bothered.  Although these proxies were often slower and less secure than VPNs, the great advantage is that there are loads of them available and you could watch uk tv online outside of UK free.  You had to be a little relaxed about the origin, as many were misconfigured or hacked servers, yet you could grab a free proxy online and watch Match of the Day without too much problem.
Alas those days are now gone, 2016 saw the BBC finally introduce a block on all proxies. You can't watch BBC iPlayer abroad free anymore because they are detected automatically and you won't get access anymore.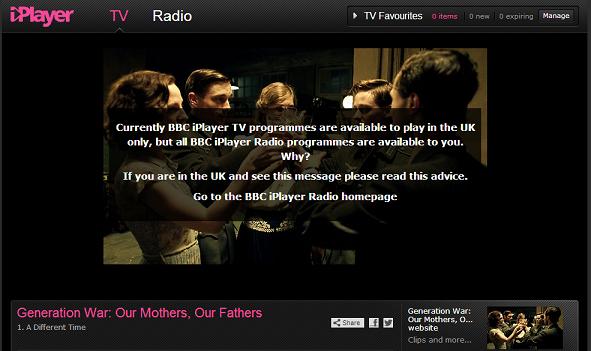 You'll get a variety of different messages if you try, from errors to the standard BBC programmes are only available in the UK.  So don't waste your time searching for a British proxy server online to use, none of them work anymore.
Noooo BBC, Not My VPN too!!!!
Oh yes, I'm afraid so in 2017 even VPNs (Virtual Private Networks) have been affected. The new more militant BBC have also targeted the use of VPNs to access their site, which represents a significant escalation from the corporation. Blocking access to VPNS takes a lot more resources as there's no automatic way to detect their presence.
What is possible is to use a combination of methods. Firstly they identify IP address ranges which have multiple concurrent connections to the BBC site, and then add them to a sort of blacklist of addresses to block. As these addresses can be rotated fairly quickly this involves something of an ongoing battle with addresses being updated constantly.
Secondly, the services which are overtly advertising 'BBC and TV Region Unlocking' have been identified and targeted. Some have been contacted by the BBC legal department which usually involves them closing down discretely. Others have been identified and blocked using the IP address techniques mentioned above. Basically the more obvious the company is, using BBC logos and stuff the more likely they are to be closed down.  It's no longer a simple matter to spoof ip address to watch ITV player or BBC – many ranges are blocked.
So that's it – Lost the BBC for Good Unless I'm in the UK?
It's not quite that bad for watching UK TV online, although they have just thinned the options somewhat.   Although all the proxies and a good proportion of the VPN services now no longer work with BBC iPlayer there are still some that do. Firstly look at the proper security companies, those who sell their VPNs on the basis of security, privacy and encryption. These companies generally have much better infrastructure, faster more secure servers that are harder to detect.  Also there's absolutely nothing wrong with using a VPN service for security so the BBC and all the other media companies tend to leave them alone.
There are still quite a number of secure VPN services which still work with the BBC iPlayer from abroad in 2017 you just need to find one that works well for you.  The remaining ones also have the advantage of working with the other major sites too.  Enabling you to watch Sky Go abroad (with a subscription) and also watch ITV player abroad too.
We recommend using Identity Cloaker, we've been streaming through the BBC for nearly a decade now.  It's worked without issue since I first logged in 2007 to watch the BBC News from a hotel in Istanbul! However there are others, just make sure you test with a trial account before investing in a long subscription.   Many of the VPN providers still advertise that they work with the BBC when they don't actually work anymore, don't get caught out.
Remember low key security VPNs are generally the ones that still work – try this trial
.