It's not quite perfection but it comes pretty close for me , here's my relaxtion recipe!
a couple of weeks in the sun
two reasonable Test matches
competitive England cricket team
someone to entertain my children
last but not least Test Match Special
Unfortunately this doesn't happen very often for me, so when it does I'm not going to let anything stop me! However there is another hurdle to overcome for anyone who happens to be outside the UK – it's the fact that for some reason you can't listen to TMS on your computer or tablet. It's crazy, you either get redirected to an error message or sometimes you get an alternative radio broadcast instead of the dulcet tones of Aggers and Geoffrey.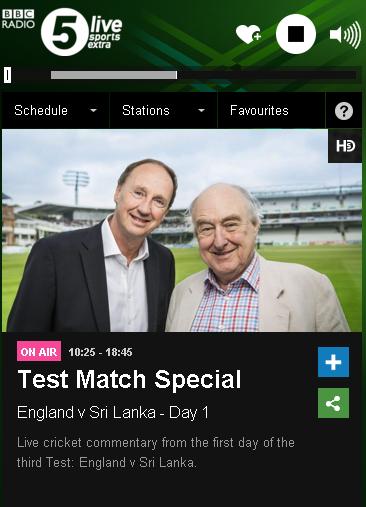 I'm not sure if this has always been the case, although the BBC has alway blocked the BBC iPlayer and some radio broadcasts but I thought Test match Special always worked, after all it is cricket!
Anyway it doesn't work currently presumably another casualty of the Beeb's latest penny pinching/revenue raising efforts. Although it's easily remedied – the secret to listening to TMS abroad on your laptop or tablet is to hide your real location by switching IP addresses.
Here's the method, this video refers to watching BBC TV abroad but it's exactly the same process in order to listen to the restricted radio stations like 5 Extra where you'll find TMS broadcast online.
The program merely changes your IP address to a UK one meaning you can access the UK version of the BBC site and yes – listen to cricket outside UK. Obviously the bonus is you get to access all the other radio broadcasts and indeed the full BBC TV schedule as well.
The program demonstrated is called Identity Cloaker and it's a superb investment if you spend any amount of time outside the UK. The Amazon is perfect for holidays if you time it right and is only a few Euros.