Turkey is one of the most popular countries for the Briton who's just looking for a little more sun in their life.  Current statistics are a little unreliable about how many British are actually settled in Turkey but on Western and South Western coasts you'll find many large UK communities in places like Antalya and Kalkan.    Many have settled their after enjoying years of great holidays, and the welcoming nature of the Turkish people.   The cost of living is not as cheap as it once was but the UK pound is still relatively strong against the Turkish lira.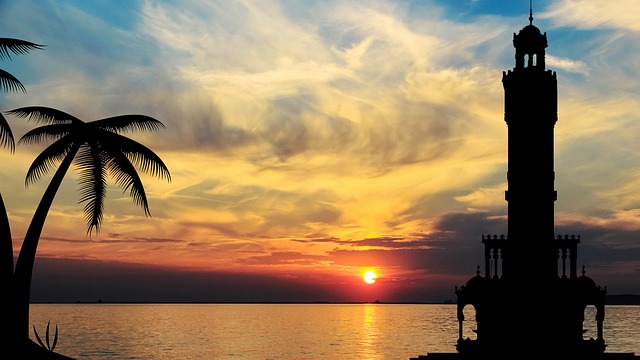 There are of course some problems there, it can seem amazing that there was an attempted military coup only a few months ago.   Turkey still feels very safe, and most Britons I know have no intention of leaving this beautiful country.  However many still like to maintain links to the UK and this is the subject of this article – How to Watch UK TV Online in Turkey written based on my own experiences.
I lived in Turkey for some time although not currently, there is some TV on Turkish television for the English only speaker but as much as somewhere like Spain.  Lots of American movies and shows are subtitled into Turkish but remain with the English audio, others unfortunately have low grade dubbing! There are some English News available such as the Turkish Daily News site and also on Turkish Star TV.  Occasionally you will get content from English channels on Turkish TV but they're a little bit random.  If you're there for any length of time though, it's advisable to learn the language or find a way to access UK Television.
The simplest way is to access the TV over the internet on your laptop or computer.  Once you've mastered this it's simple to get cables to transfer to your TV or just watch directly on the device if you prefer.  I personally was happy with access to the BBC and ITV on my laptop and PC, I never bothered with anything else.
Watching UK TV in Turkey – the First Hurdle
The main issue with watching British TV stations outside the UK is something called geo-blocking.  This refers to the common practice of blocking access to content on a web site based on your location.  All the UK TV stations broadcast online but none of them allow these to be watched from outside the United Kingdom.  You can visit the BBC iPlayer site or the ITV Hub from Turkey but if you try and watch anything you'll get a blocked message – something like this: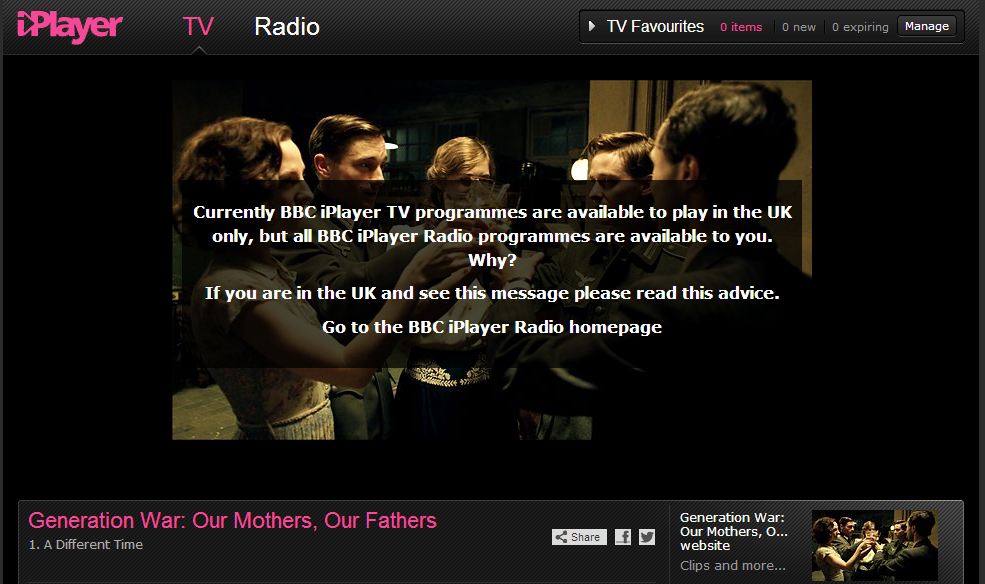 It's not complicated, in this situation the BBC web site has checked your IP address when you connected and looked up it's location in a country database.  If you're in Turkey you'll have a Turkish IP address and therefore will be blocked.   It's been like this as long as the BBC have been broadcasting online and is the same with Channel 4, 5 and ITV plus all the other UK media sites.  If you just go to the standard BBC site from outside the UK you'll get quietly rerouted to the BBC International site which is basically just a news site without the live TV, radio and programme archive.
How to Bypass these Blocks
Over the years the options have varied slightly but basically there's one core requirement – hide your real IP address and pretend you've got a British one.  There were all sorts of ways of doing this in the past, even quite a few free options using things called online web proxies which relayed your connection through a UK based proxy.
Nowadays there are much fewer options, the BBC and the other UK stations have blocked access to these proxies so none of them now work.  The same goes for all the generic 'watch UK websites' which you'll still find littered around the internet, the vast majority of these are blocked (although they'll happily take your money 'till you find out!).   Although the method has not really changed, hiding your real location and relaying through another server, the ones that work are now much rarer.
The connection has to be secure using something called a VPN, otherwise it will be detected.  Fortunately there are still a few commercial services which still allow British TV channels in Turkey and here's my preferred on in action:
It's called Identity Cloaker and is a sophisticated security program that is actually very easy to use. The software allows you access to it's network of VPN servers across the world including hundreds in the United Kingdom. Simply connect to a British one BEFORE you visit any UK TV site and you'll appear to be in the UK. The websites cannot detect the presence of the server and will only see it's UK IP address, so you are able to watch BBC TV in Turkey and your real computer address will be invisible.
All the British TV sites like BBC iPlayer and ITV Hub will be fully functional, you can even download programs to watch offline.    It also works with commercial channels but you'll need the relevant subscription for watching Sky TV in Turkey. At the time of writing, both ITV and the BBC have started insisting you need to register for a user account. Don't worry just connect to a UK server first and register as normal, you'll just need a valid UK postcode in the registration details. You can use any of the servers in the list to access media sites in countries like the USA, Canada, Ireland and France for example which all use the same geo-blocking technology.
So if you want some privacy or just want to watch the news on the BBC or TV across the world then a VPN is what you need. Test it first, here's the one we use – IDC Link